Office Cleaning Melbourne
Brightzone cleaning is the leading experts in providing high-quality cleaning solutions to local businesses. We understand the importance of office cleaning in Melbourne having a well maintained and clean business premises.
No Lock-in Contracts, we believe in our results!
Top Rated
Commercial Office Cleaning Melbourne
You can choose our services like day office cleaning Melbourne or night office cleaning Melbourne.
We have complete staff and technique for maintaining an office environment that is clean and sanitary is mandatory for all commercial businesses. In addition to providing a safe and healthy workplace for staff, the state of your office also offers a reflection of your business to all clients and visitors.
At Brightzone, we understand how important it is to maintain high standards of cleanliness in your office building. As specialists in office cleaning Melbourne, Brightzone has been providing corporate office cleaning services to local businesses and companies for decades. We clean your office spotless from both inside and outside in.
Custom Office Cleaning Service Schedule
Your work environment is unique, and so is the Cleaning Service Schedule you require. We design a comprehensive and complimentary jot to suit your premises and requirements.
Office Cleaning Services Melbourne
We provide office cleaning Melbourne CBD and almost all metropolitan suburbs in Victoria. All our office cleaners are well trained and experienced to deliver any type of commercial cleaning work for any type of business. Take advantage of regular weekly, fortnightly, and monthly business total office cleaning services by Brightzone Cleaning. In addition to regular office cleaning Brisbane or office cleaning Adelaide, we've got a couple of other services that you might find useful for your workplace. We are providing commercial cleaners in East Melbourne, West Melbourne, North Melbourne, South Melbourne.
Office Upholstery Cleaning
Our house cleaning service Melbourne covers all the areas in the house, including kitchen, bathrooms, bedrooms, living, hallways and entrance ways.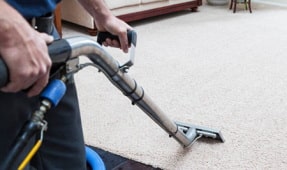 Our professional office cleaners use professional equipment and modern methods to achieve the best looks for your carpets.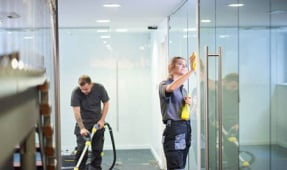 Office Window Cleaning
We can also help you with the cleanliness of the windows at your office, both on the inside and the outside.
 
 
Office Kitchen Cleaning
The area within the office where people go to eat, spend their lunch and therefore it is very important that the area is clean and germ-free.
 
Benefits of Hiring Office Cleaners
It is important to keep your office clean Melbourne. Choosing out the commercial office cleaning services Melbourne of Brightzone cleaning will give you a hassle-free office and will leave you with the best vibes. We at Brightzone promise to serve you with the quality services by our well-trained professionals. We do believe in assurance and insurance because that only helps in building up trust with the customer. Call us once and we will keep you updated with the best discount and prices in the market.
Vacuuming floors & carpets

Washing doors, windows, & blinds

Cleaning glasses on doors, windows, & cupboards

Dusting the office furniture, tables, and desks, chairs & electrical equipment such as computers, lights, & fans

Emptying trash & litter cans

Cleaning office restrooms
Frequently Asked Questions
How much does an office cleaning service cost?

Office cleaning cost is determined by factors like the size of the office, time taken to clean the office, and condition of the office prior to cleaning. The price can be $30 to $50 per hour for less than 2000 square feet area and for a larger office (above 2100 square feet area) the price is calculated by per square feet.

What Is The Going Rate For Commercial Cleaning?

The Commercial Cleaning rates cost an average of $30–$35 per worker per hour. The cleaning companies give a free estimate before taking up a project by looking at the property and the number of hours they think it could take to clean a space.
How Much Do Cleaning Companies Charge?

The cleaning companies usually charge an average of $30-$50 per hour for a small space. However, the price can go up to $500 for a 3BHK apartment. It doesn't include carpet cleaning; the same can be included in the package with an additional cost.

How Much Does It Cost To Have A House Professionally Cleaned?

The house to get professionally cleaned requires help from the cleaning companies. The cost to have a house professionally cleaned range from $120 – $500 depending on the number of workers and the size of the house.
Get Quick Office Cleaning Service Quote
Isn't it really sad to work in an untidy environment? Of course, everybody needs a positive and clean vibe to make you feel thrilled and happy at your workplace and moreover, an untidy office distracts clients as well. It is very important to have a clean and appealing workplace so as to deliver the best output.